The Venice Biennale is one of the most prestigious cultural institutions in the world, showcasing the world's best artists, architects, designers and performers for over 120 years. In 2020 architects Era Savvides and Nasios Varnavas of Urban Radicals working with art curators Evagoras Vanezis and Marina Christodoulidou, were selected to curate the Cyprus Pavilion as part of the 17th Venice Architecture Biennale that took place in 2021, May to November.

The Cyprus Pavilion exhibition entitled 'Anachoresis, Upon Inhabititng Distances' responds to the Biennale's 2021 thematic of "How Will We Live Together?" by addressing the spatial experiences that occur when 'inhabiting distances' becomes a paradigm for the development of new socialities. Within the pavilion, 'anachoresis' is introduced as an act of departure that takes place on the convergence of various scales and rhythms, proposing spatial configurations where distances are blurred and inhabited. Taking the pavilion's original domestic typology as a point of departure, the exhibition scales up one of the most archetypical structures and social objects, the table, into a quasi-monumental form, establishing a space for gathering, encrusted with narratives of craft, collectivity, community and play.



The Cyprus Pavilion: Anachoresis, Upon Inhabiting Distances

Location: Cyprus Pavilion, 2021 Venice Architecture Biennale, Venice, Italy.

Curators: Era Savvides and Nasios Varnavas (Urban Radicals) in conversation with Evagoras Vanezis and Marina Christodoulidou
Exhibitors: Urban Radicals
Contributors: Serhan Ahmet-Tekbas, Thanasis Ikonomou, Mariza Daouti, Eftychios Savvidis, Eleni Diana Elia, Kleanthis Rousos, Charis Nika, Sebastian Koukkides, Eleonora Antoniadou, Nayia Savva, Christophoros Kyriakides, Orestis Kyriakides, Dakis Panayiotou, Theodoulos Polyviou, Veronika Antoniou, Teresa Tourvas, Natalie Savva, Mark Rist, Rania Francis, Gergana Popova, Regner Ramos, Kleanthis Kyriakou, Gabriela Ennich, Christian González, Brian Torres, Emilio Koutsoftides, Gabor Stark
Soundscape: Yiannis Christofides
Dance-as-design: Georgia Tegou, Michalis Theophanous
Exhibition design: Urban Radicals
Fabrication: Design and Making, Oban CNC
︎
cypruspavilion
www.cypruspavilion.org
---
anachoresis
[greek. noun ana'chόrisis]
1. Departure;
2. To check-out;
3. To vacate;
4. To take-off.

anachoresis
[animal behaviour]
the habit of avoiding predators by living concealed in a hole, crevice or other retreat.
anachoresis
[Roland Barthes, How to Live Together]
ana: distancing (in an upward direction)
chorein: to go back up to a distant place
= act or state or concept of separation from the world that is effected by going back to some isolated, private, secret, distant place.


Conceived as a schema and ideogram, the table is sequenced in three stages:

1. Piling - the support structures (x)

A series of vertical elements form the support system for the tabletop's surface. These nodes express the structural logic, distance and base rhythm of the plan as score. They introduce the raw materialities and topographies of Cyprus, spanning from coast, to plain, to mountain. They reference natural pigments, soils and textures from terrains of the island, which we build from and upon.

2. Levelling - the tabletops (xy)
The unifying gesture of the tabletop is fragmented into a network of consecutive planes. Apart from creating multiple horizon lines at various heights, the tabletops form the backdrop for multiple speculative scenarios.
The fragments inscribe protocols of distancing by demarcating the surface with circular forms of proxemic theory, quoting the proto-settlements of Khirokitia – tracing a geometric language for collective living.
3. Activating - the objects and processes that inhabit the surface (xyz)
Embedded into the surface are a series of objects subdivided into three categories;
infrastructure: necessary for the practical operation of the table's architecture
play: allowing for interaction and chance
craft: referencing collectivity through knowledge exchange and working together to produce new cooperative methods and socially sustainable economies of making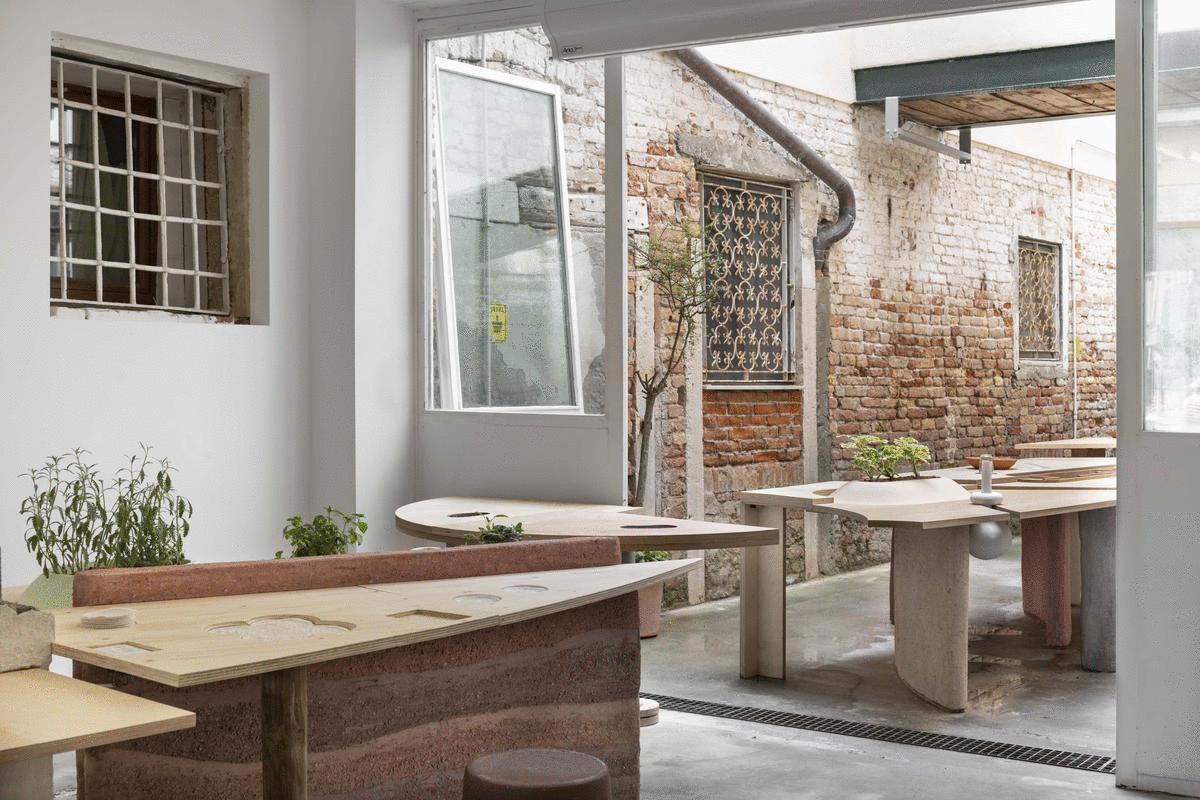 The table constructs an open-source framework, with multiple departure points into new rhythms of sociality. The table's moving parts suggest a negotiation between cohabiting subjects, forming different proxemic patterns. One is invited along a paced walk through spaces for pause and activation – implementing new protocols for distancing whilst balancing our need for being together.
The surface of the table acts as a bridge connecting one place to another, yet is broken down into fragments – an archipelago of micrographies in which objects and narratives of collectivity are embedded.
Objects of communal functions are tagged in a system of cartography which considers architecture as an archive (trápeza) of things. Analogies arise between elements of chance and precision; DIY-ness and planning; inside and outside.


The act of walking is used as a mechanism to establish the relationship of architecture and visitor as one of conversation, non-static and in- flux.

Sound and movement are proposed as design tools to re-negotiate our daily behaviours and rhythms. Movement research adapts diverse architecture-body relations, whilst a soundscape expands beyond the table's coordinates, both anticipating novel or familiar horizons of a home.

By catalysing new socialities, anachoresis nurtures the act of inhabiting the distances that may shape our collective experiences and the future of living together.
Architectural models are encountered on a circular table typology, a commoning surface for re-thinking living together.
All components and gatherings assemble a multiplicity of views, places, soft joints, bridges, traditional and contemporary approaches to collectivity, people and times, into new proximities and configurations of a fantasized community.


As part of the project, a series of collateral events took place in the pavilion, opening up the space to the Spiazzi Cultural Association in Venice as well as to international and local pratitioners and researchers, while the exhibition was in progress.

Anachoresis: Upon Inhabiting Distances is accompanied by a homonymous book published by Archive Books, and a newspaper edition.



The publication includes texts on the various thematics explored by the curatorial team and the project's contributors, while it opens itself to projects and texts by invited collaborators.

The newspaper collects articles by curators and exhibitors of this year's Biennale, as well as other cultural practitioners, and is available as Free Press throughout the duration of the exhibition.